RAC - Radius Arch Cap
The Fast Arch Radiused Arch Cap gives you an easy way to cap off a curved top wall or a curved outcroppping.
How to Measure and Order a Radiused Wall Track: RAC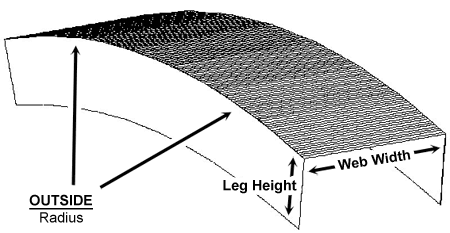 Download our printable (pdf) Curved Product Guide, which will show you the different ways we can help you create curved walls of any kind..
RADIUS:
The Fast Arch Radiused Arch Cap can be built to any radius you need. Literally. The RAC is based on the radius to the OUSIDE leg.
WEB WIDTH:
Do you need a Radius Track for Steel Stud Framing or for Wood Stud Framing? The web width measurement is based on how thick you want the wall. You can use standard wall studs in metal or wood, or get creative and build to any thickness between 1-1/2" all the way to 16".
LEG HEIGHT:
The measurement of the height of the side flange. We can make this any height from 1-1/4" to 6".
LENGTH:
How long will your curved wall be? That is the length. Our RAC products are available in lengths of up to 144". If you need a longer length, no worries, we can provide as many segments as you need to create the wall your customer is expecting.
GAUGE:
We'll use the gauge you desire, from 25 to 14 gauge sheet metal.